Become a Confident Driver in Newmarket and York Region's Driving School
Newmarket, ON licensed driving school Tomorrow's Drivers is showcasing its summer driver training courses for new drivers. The program is designed to build student confidence and provide driving phobia relief.
More information about Tomorrow's Drivers Driving School is available at https://www.tomorrowsdrivers.ca
The Newmarket driving school's MTO-approved driver training program for new and inexperienced drivers focuses on building confidence behind the wheel. Certified in-car and in-class driving instructors help students understand the rudiments of driving & parking while facilitating an easy transition from the classroom to behind the wheel.
Instructors offer individualized advice and techniques to minimize and eventually eliminate driver phobia and anxieties that influence on-road behaviour. The Newmarket, Ontario new driver training school has a stated mission to train drivers to develop confidence while on the road and be ready to deal with any situation at any time.
A key focus of this mission is to impart life-saving and self-preservation driving skills that meet regional safety standards. Tomorrow's Drivers offers one-to-one in-car beginner driver education (BDE) training sessions 7 days a week with pick-up and drop-off services.
All training is conducted to prepare students for their Ontario driving test, and beyond. The school offers pre-test evaluations, pre-lesson calls, and the option to use the instructor's car for the driving exam. The school maintains a 99.5 percent student pass rate.
According to a spokesperson for Tomorrow's Drivers, "Our mission is to train new drivers to have absolute confidence on the road, be ready to deal with the most difficult driving situations at any time, and be safe & respectful motorists."
Shayraz Khan, the serial entrepreneur who owns Tomorrow's Drivers, is a specialist in stress/anxiety relief, hypnotherapy & neuro-linguistic programming. He has successfully helped people from all walks of life to cure addictions, phobias and anxieties of all kinds by using his unique experience to provide 1-on-1 therapy that instills & inspires his students with a change in mindset, a newfound confidence, a sense of self-fulfillment, and an improved ability to visualize & achieve goals for greater success in life.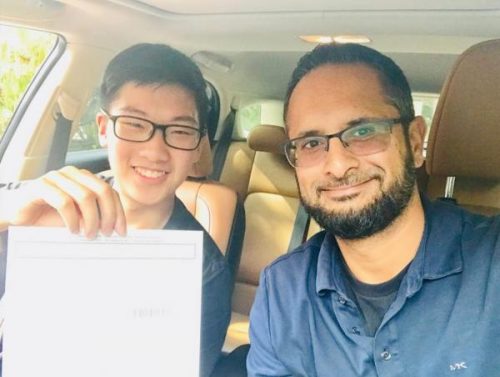 As a key component of "The Tomorrow's Drivers Way," Shayraz' therapeutic expertise is especially helpful for the drivers-in-training whose abilities on the road are being negatively affected by their emotional state.
"I've always had a fascination for how the mind works, and how resilience & confidence can be built up, only to be shattered within a fraction of a second," says Shayraz. "I also believe fear is a state of mind. When you learn to control your state of mind, you can control your state."
Because of this therapeutic driver training strategy, Tomorrow's Drivers in Newmarket has received numerous video testimonials from students praising Shayraz, the school & its trainers for imparting them with the positive mindset & skills to not only be road-ready for the rest of their lives, but also to succeed in all areas of life with more internal/external prosperity & confidence.
More video testimonials and reviews can be found on the Tomorrow's Drivers YouTube channel.
Tomorrow's Drivers also provides Specialized Senior Refresher Training to prepare seniors for the Ontario senior driving test, which is mandatory for seniors 80 years old and above who are renewing their driver's licenses.
About Tomorrow's Drivers
Tomorrow's Drivers Driving School is a full-service driving instruction facility, centrally located in Newmarket at Leslie Street and Davis Drive nearby Highway 404, and serving students all over York Region. The school is licensed by the Ministry of Transportation of Ontario to provide driving training for G and G2 driving licenses.
More information is available over the phone at 1-800-241-7493 and via the customer contact form at TomorrowsDrivers.ca.